SCOTT R. ROBERTS, DMD
*PROUDLY SERVING THE LAKE AREA FOR OVER 20 YEARS*
OUR PHILOSOPHY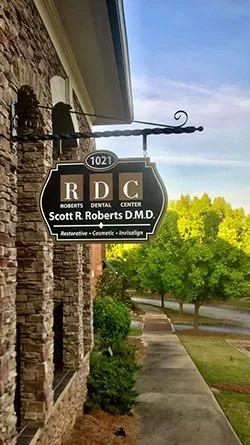 Welcome to Roberts Dental Center and the office of Dr. Scott R. Roberts.
For over 20 years our focus has been to provide a dental practice where patients can feel confident knowing they're getting the highest quality dental care in a comfortable, caring environment. Dr. Roberts and his staff have a combined 60 years of experience treating patients and their dental needs. With that experience, we look forward to providing patients with personalized, comprehensive dental care that focuses on wellness and prevention.
A lot has changed over the last 20 years in dentistry! To assure patients have the best, longest lasting, most predictable dentistry possible we feel it's very important to always be in the forefront of the newest technologies, techniques and materials. As much as certain things have changed over the years; our PHILOSOPHY of how we treat patients has not.
Our number one goal will always be to treat each patient the same, regardless of circumstance, as if they were our own family member. We want complete patient satisfaction and pride ourselves in communicating what the best options are for long term health. In our opinion, to provide this type of care it's not all about technology. It's not about being a small practice or being a large practice. It's about having an intentional attitude about getting it right. Sometimes that is understanding that the best and cheapest dentistry is when the right thing is done extremely well the first time and it lasts for a long time. It's about the staff and doctor taking whatever time is necessary for the patient to feel comfortable and well informed. This is often simply achieved by listening to patients, explaining options and a gentle touch. We don't ever want our patients to feel pressured for what they might perceive as unnecessary treatment. We make it our personal mission to SHOW our patients what they need for optimal oral health, but also why it's important.
We want our patients to be able to make informed decisions and have treatment that best fits their situation. If you haven't seen a dentist in a while, had a bad experience, or just looking for a change, we would like to invite you to become a part of our practice. The trust our patients put in us and our abilities is taken very seriously. We desire long term healthy relationships. We'll treat you like we will see you again soon; just like we would with our own family! For information, including photos of dental work by Dr. Roberts. If you have any questions please don't hesitate to call the office, 706-454-1233 or email us, [email protected].
Best Regards,
Dr. Scott R. Roberts